Raccoon Exclusion
County Animal Control
608 259 6515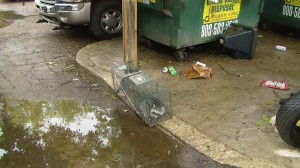 A raccoon exclusion can be done with sprays, repellents, or even predator urines. This exclusion is done by taking the repellent or predator urine and spraying it in the territory that the raccoon is currently in. Once the repellent or urine is caught by the raccoons nose  of the raccoon it is supposed to fear or discomfort it and steer the animal right on out of there. This exclusion strategy to get rid of raccoons has worked but is not always a for sure exclusion. To be absolutely positive that the raccoons have been excluded you would have to physically remove them. That being done with a sort of trap where you could catch the raccoon, and then remove it from the premises. If you need assistance in a raccoon exclusion feel free to call:
608 259 6515
County Animal Control
Its Winter time and for some of you it may be time to get rid of raccoons! If you are experiencing raccoon issues at any time of the year, we can help! Getting rid of raccoons or raccoon removal work should not be procrastinated and should be taken very seriously as the raccoon issue can only worsen. Call County Animal Control to get rid of your raccoon issues. 608-259-6515 for getting rid of raccoons and raccoon removal services.